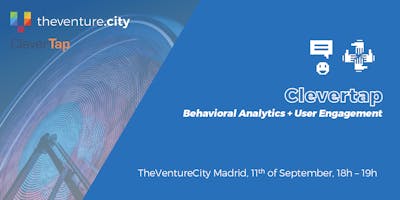 Behavioral Analytics + User Engagement with Clevertap
At CleverTap, startups are our heart and soul. We provide mobile start-ups with an Intelligent Marketing platform – something more than simply delivering analytics or engagement.
Would love to show you how CleverTap can help you create awesome customer experiences and retain them in real-time.
LANGUAGE: English
ABOUT THIS SESSION
In this session, you'll learn from Andres and Ilja how to :
1.    Build Customer Journeys: Helps build personalized experiences based on a user's unique interactions with your brand
2.    Create Omni-channel Marketing Strategies: Give your users a consistent yet differentiated experience with your brand 24X7
3.    Geo-location Targeting: Quickly group users based on a user's location with advanced localization tactics
4.    Automate Personalization at Scale: Send personalized marketing campaigns boosting top-line revenues.
ABOUT CLEVERTAP
Everyday, 1000s of brands continue to build valuable relationships with their customers using CleverTap's Intelligent Mobile Marketing Platform, which provides actionable, real-time insights for building amazing customer experiences.
CleverTap has been able to assist start-up brands like Beblue, DealsPlus or Styl and many more to engage their audience and engage them at exactly the right moment, thereby increase conversions and retain users for a lifetime.
ABOUT THE PRESENTERS
Andres Alvargonzalez (LinkedIn) – CleverTap Business Development Director, based out of Madrid. Andres spent +20 years at mobile industry where he played a variety of roles in Sales, Marketing , BD and Customer Success. Most recently, Andres was director of Marketing for Nuance Communications for the AI driven SaaS Mobile Unit ($100M + ARR business spanning 5 continents in Telcos and UC verticals).
 Ilja Goossens (LinkedIn) – CleverTap EMEA director, based out of Amsterdam. Ilja is a mobile expert with a serious start-up soul (founder of a mobile gaming and comms solutions start-ups). He has worked in Marketing, Sales and leadership roles at Chartboost and Tune before owning the expansion of CleverTap business in Europe.