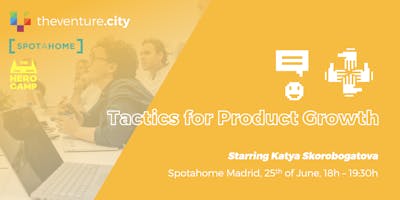 Tactics for Product Growth
ABOUT THE WORKSHOP
Katya Skorobogatova will be talking about three areas that the growth teams in early stage startups are working on:
- New user on boarding
- Email and push notifications
- Social and other graphs and how and if to tap into them
We will discuss why these product areas are important, what to optimize first: product or user acquisition/lead generation strategy and why, when to start thinking about scaling you growth playbook and what is growth S curves or why your product will always be in growth mode. If you are ready to make this workshop interactive please be ready to share the examples of the onboarding flow, details of your email strategy or what worked or hasn't worked for you in your email strategy so that we can discuss those.
LANGUAGE: ENGLISH
SCHEDULE
18:10h- Intro
19:00h- Q&A
19:15h- Networking
SPEAKER
VP of Growth at TheVentureCity  Katya Skorobogatova
I have been working in growth for almost 15 years now, was a member of growth teams at Facebook, Instagram and WhatsApp. I am good at helping great product grow faster. 
Growth for me is a full funnel effort that starts with product definition and extends through product marketing to activation, expansion and monetization. Growth is based on the data informed culture in the organization and has data analytics (data science and data engineering) at its core. 
My experience at Facebook, Instagram and WhatsApp growth teams taught me me to seek out and solve for the bottlenecks that prevent companies from growing faster - be it team structure, access to the right data, product development process or understanding of the local markets they are trying to grow in.
ABOUT SPOTAHOME
 Created in 2014, Spotahome is a Spanish start-up developing the PropTech market to bring change to the property industry worldwide. Its marketplace offers the most complete listings of apartments, rooms, studios and student residences for residential renting of over 30 days through an online booking platform, with online viewings, which allows tenants and property owners to save time and money.

The Homecheckers, Spotahome's team of professional photographers, visit and verify the properties published by the company. They take photos, record high-definition videos of the property and neighbourhood, create detailed floor plans and write honest descriptions.
ABOUT THE HERO CAMP
"The hero camp is the only training place that offers a different type of learning in revolutionary disciplines." We're a movement in wich intrepid people gather together to think different, to question the status quo and conect ideas to change the way we learn and convert the world. We help people acquire knowledge and experiencies so they can create their own way of life (personal and professional one). We train revolutionary disciplines that will mould the future.
PARKING
Parking parks & go Atocha: https://www.google.com/maps/place/Parking+parks+%26+go+Atocha/@40.401459,-3.6936647,16z/data=!4m8!1m2!2m1!1sparking+publico!3m4!1s0xd42262529555121:0x968541bde059bd08!8m2!3d40.403392!4d-3.6905258
Parking Delicias 24 horas:
https://www.google.com/maps/place/Parking+Delicias+24+horas/@40.401459,-3.6936647,16z/data=!4m8!1m2!2m1!1sparking+publico!3m4!1s0x0:0x5f3ed17196cb00b2!8m2!3d40.3981217!4d-3.6945176  
Garage Ronda de Atocha:
https://www.google.com/maps/place/Garage+Ronda+de+Atocha/@40.4070352,-3.6960177,16z/data=!4m8!1m2!2m1!1sparking+publico!3m4!1s0x0:0x46c2b5685258ac87!8m2!3d40.4070353!4d-3.6960183  

Parking Rafael de Riego, 5:
https://www.google.com/maps/place/Parking+Rafael+de+Riego,+5/@40.4051759,-3.6921926,16z/data=!4m8!1m2!2m1!1sparking+publico!3m4!1s0x0:0xe7cd92d363572953!8m2!3d40.404855!4d-3.6920366