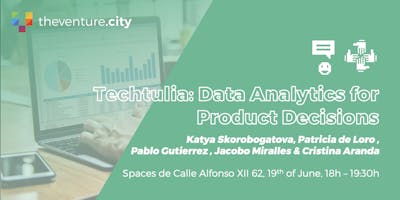 Techtulia: Data Analytics for Product Decisions
WHAT IS THE PANEL ABOUT
We are bringing the product analytics leaders from tech and non tech companies to talk about how to effectively bring data into product decision making and support product leaders in their respective teams.
 What we will be discussing during this panel:
- How product analytics can help products evolve?
- Data culture and product culture: are they different?
- Ideas and best practices in setting up product analytics teams for success
- Data roles and what success looks like for analytics teams?
LANGUAGE: ENGLISH
SCHEDULE
18:00h -Door opening
18:10h- Introduction 
19:00h- Q&A
19:15h- Networking
MODERATOR AND PANELISTS
Moderator - Chief Product Officer at TheVentureCity  Patricia de Loro
Working in product since 2000 at different sectors in consulting first and then eBay and Paypal in London and San Francisco creating new products, verticals and value propositions and launching them internationally. Last 6 years led Digital Transformation Program for Vodafone. I am a Telecommunications engineer, IESE International MBA and MIT Innovation Program.
Panelist - VP of Growth at TheVentureCity  Katya Skorobogatova
I have been working in growth for almost 15 years now, was a member of growth teams at Facebook, Instagram and WhatsApp. I am good at helping great product grow faster.
Growth for me is a full funnel effort that starts with product definition and extends through product marketing to activation, expansion and monetization. Growth is based on the data informed culture in the organization and has data analytics (data science and data engineering) at its core.
My experience at Facebook, Instagram and WhatsApp growth teams taught me me to seek out and solve for the bottlenecks that prevent companies from growing faster - be it team structure, access to the right data, product development process or understanding of the local markets they are trying to grow in.


Panelist - Head of Insight at Spotahome  Pablo Gutierrez Martinez
Currently I am the Head of Insight af Spotahome: Leading Analytics + Data + Strategy. Member of the Executive Team. Leveraging Data to define and make faster and smarter Strategic decisions. Transforming Spotahome into a Data Driven Company.  
I have been working in data/analytics (+ product & marketing) projects for c.15 years now, working intensively in analytics projects for companies as Oliver Wyman (co-leading the "Value Based Management" offering) and Amazon leading all main data initiatives for Media Categories (as a Senior Manager - Project Manager / Product Manager). 
I have mainly worked for Telecoms, Retailer, Consumer Goods and Digital Companies.  I am a Mechanical Engineer with an Specialization in Industrial Organization and an Executive MBA at IESE.
Insights and Analytics need to work hand-by-hand with Product, Growth and all other key business areas (i.e. Operations), to (i) ensure the right data basics are in place, (ii) to support the different areas on the informed assessment of the business performance and (iii) to go one step ahead on the business diagnosis, on the decision making process, and on the business optimization and efficiency.
Panelist - Head of Data, Engagement & Monetization at Bnext Jacobo Miralles 
Jacobo Miralles has obtained a Double Bachelor in Laws & Business Administration at the Universidad Autónoma de Madrid, where he graduated Cum-Laude. He studied at the Boston University (USA) and the University of Mannheim (Germany), and finished a Masters in Data Analytics at ISDI.
His professional experience includes companies like the german multinational Siemens, the legal boutique Senn Ferrero, Sports & Entertainment and the startup Ontruck, where he had a leading role at the BI team.
After developing the Data and Business Intelligence team from scratch, Jacobo now leads the Department of Data, Engagement & Monetization, that's in charge of compiling data about product usage and use it to develop and improve product features, as well as partnering with brands and fintechs that offer products that Bnext users might be interested in purchasing.

Panelist - Business Development en TAIGER & Co-founder of MujeresTech Dr. Cristina Aranda
Is Business Development at Taiger, an Artificial Intelligence company focus on Natural Language Processing, specialising in information extraction and knowledge access, with offices in Singapur, NY, Mexico and Madrid. Cristina has more than 17 years of experience in Innovation and Marketing with companies from IBEX35, Top500 and Startups. She is a co-founder of Association Mujeres Tech and Allies, to increase the female presence in the digital sector, and establishes ties with men. She is member of Gender Experts Committee of Avance Digital (Ministry of Economy and Business), she is considered by Business Insider as one of the 25 Top Tech influencer in Spain and she was TEDx speaker. Cristina is PhD in Theoretical and Applied Linguistics, graduated in Hispanic Philology and Master in Internet Business.

PARKING:
You can find a parking near the venue in:
Hotel Only You: Paseo de la Infanta Isabel, 13, 28014 Madrid. (link) - 5min walking
3 parking options in Estación Atocha (link) - Paseo de la Infanta Isabel, 28012 Madrid - 6min walking

CONTACT:
eugenia@theventure.city / +34 747 866 676