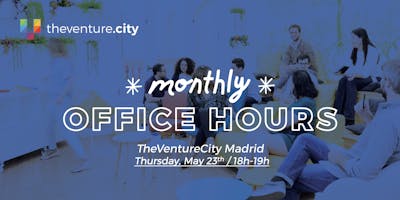 Office Hours: Product, Fundraising, Startup Culture, Future Vision, Engineering & more
WHAT ARE OFFICE HOURS ABOUT
I know it sounds a lot like "work time" but is a great opportunity to refresh your thoughts about some topics that are key for entrepreneurs or innovative minds who are looking for answers. 
Our Office Hours are one-to-one meetings with one of our TVC staff.
We are bringing this special Spanish/English sessions with our team of experts, which mission is to help our startups to grow.
WHAT CAN YOU LEARN ABOUT
Product: We invite you to this session to understand the importance of product discipline to create innovative value propositions that solve real problems, getting to know your clients, managing your resources and organizing your teams.
Fundraising: Muz Sayeed, associate at the $100-m early-stage fund of the Venture City will speak about fundraising from VCs, when it makes sense and how to navigate the process.
Startup Culture: Culture is key for the success of an organization and must be defined from the begining. In the startup ecosystem a "digital mindset" allows companies to be much more agile and innovative by implementing transparent communication, flatter hierarchies, creative problem solving, decision-making based on data or experimentation and risk taking to learn from mistakes.
Operations and Management: Santiago Canalejo, COO of TheVentureCity will be able to share real experiences related with finetuning processes, organization, finance and admin, stakeholders relationships, or general views on managing your company.
Business Design – Future Vision: Every business has a vision, every business should have a vision. The creation of a future narrative helps startups, as well as established corporations, to identify possible scenarios of relevance in different environments and contexts. Usually putting technology as a reference, but also understanding how people's behavior can be different from social, economic changes, etc. We will talk about how future scenarios can be constructed from different perspectives, what elements should be taken into account.
Engineering: Product and Engineering are at the core of our business and should be at yours too. Product Management is where long term value is created through the creation, development and management of products that support overall business strategy. Managing development times and prioritizing sprints is key for the sucessful execution of the product roadmap, and to achieve this a well synchronizred engineering team is vital.
HOW ARE THE SESSIONS
The sessions will be 20 minutes each, you can sign up to the sessions your are interested in, and our TVC staff will make their best to help you out.
The steps are the following:
1. Please arrive on time and have your questions prepared.
2. First 5 minutes: Explain your concern or present your startup pitch.
3. 15 minutes so the TVC staff can speak to you about their area and try to solve your concerns. 
LANGUAGE
Both Spanish and English. Fund team can attend only in English this time.
TVC STAFF available for this session
Chief Product Officer (CPO) - Patricia de Loro: Working in product since 2000 at different sectors in consulting first and then eBay and Paypal in London and San Francisco creating new products, verticals and value propositions and launching them internationally. Last 6 years led Digital Transformation Program for Vodafone. I am a Telecommunications engineer, IESE International MBA and MIT Innovation Program
VC Associate - Muz Sayeed: Canadian in Madrid. I focus on Fintech, Consumer Product and Services, Enterprise Software, Cybersecurity, Marketplaces and SaaS businesses in Europe, Latin America and US. Prior to joining TheVentureCity, I worked in product development and data science consulting in Canada. I also co-founded a sports-tech startup and consulted numerous startups in product engineering and development. I graduated from the IE Business School in Master's in Big Data & Business Analytics.
VP Business Mindset - Daniel Yuste: Serial Entrepreneur, having already created 8 start-ups and with more than 25 years of experience in areas as diverse as Strategy, Marketing, Business Development, Consulting at companies such as PayPal (EBay Group), Nike, McKinsey & Company, Microsoft, BtoBfactory and previously eleven years as Managing Partner and Director of Designit Spain & Latam. Diver and founder of the movement Protagonists of Progress.
VP University - Carlos Montes: responsible for University in EMEA at TheVentureCity. Developed my career in international environments with special focus in the Marketing area where I covered several disciplines. Before joining TVC I worked at Siemens in NY and at IBM in Madrid. I really enjoy traveling and I am a big fan of the beach.
Growth Accelerator Associate - Brooke Richardson: Marketing and business development professional with 5+ years in account management. Previous media sales rockstar, securing relationships with multi-million dollar clients. Went on to pursue her MBA at IE Business School, where she fell in love with entrepreneurship and founded a retail tech startup. Understands the challenges founders face and is eager to meet and work with startups looking to create the next big thing!
COO - Santiago Canalejo: During the last 12 years, I have taken general management positions leading industrial companies in sectors on constant transformation. One of my objectives consisted in making the companies ready to scale and grow internationally. Previously I was a Media & Telecom consultant for an American strategy consulting firm (Booz Allen).
CTO - Victor Servin: Spend the last 18 years building and leading technology oriented teams in Large Telco. In the last few years, I was in charge of Digitial Development and Innovation which allowed me to work and interact with the leading Tech companies in the valley such as Facebook, Youtube, Netflix among others in several diferent integration and partnership initiatives.