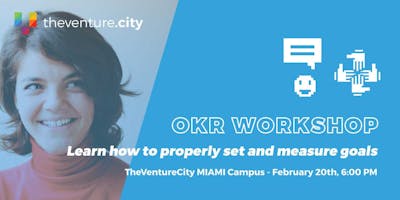 OKR Workshop: Learn How to Properly Set and Measure Goals
"As much as I hate process, good ideas with great execution is how you make magic"
Larry Page
Planning for the year is simple but it is not easy. It requires us to stop and think. Think about what exactly you are attempting to achieve and how you are going to assess if you are making progress. It sounds simple but most of us prefer to jump into action over planning.
We prefer doing and seeing the impact afterwards over defining objective measures and measuring as we go. We go month after month doing the same thing and measuring incremental changes. But significant changes are not incremental.
This event will introduce you to the OKR process ("Objectives and Key Results"). This is a goal setting and execution system used by Google and several other companies and NGOs. At the end of the workshop, you will understand key concepts, you will have some practice
on drafting OKRs and access to resources to work with afterwards. The workshop is based on the books Measure What Matters , Grit and my experience using OKRs for many years.
The workshop is useful for individuals and for teams. If you are trying to bring OKRs into your organization, we recommend to have the decision maker attend the workshop as well.
About the teacher:
Magdalena Pire Schmidt is a recent transplant to Miami. Prior to moving to Miami, she spent 8+ years working at Google where she managed a legal operations team focused on content moderation. Magdalena has built teams from the ground up and has seen larger teams through
cycle of changes. She has experience managing international teams, developing content policies and scaling them. At Google her day-to-day involved influencing lawyers and engineers to balance risk, scale and values.
Today Magdalena is mostly interested in empowering women through technology. She is also excited to find ways to add value to the Miami innovation community. When she is not thinking about this, she is taking tango classes and finding ways to indulge her passion for Italian language and culture.