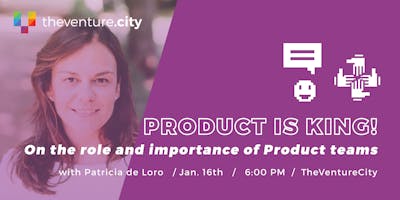 Product is King: the role and importance of Product teams
In any organization, Product is key to the core business, but are you clear on what Product actually is, why it's important or how it's managed?
Patricia de Loro, Chief Product Officer at TheVentureCity, will cover these questions by reviewing different types of Product managers, what functions they perform and where they operate within an organization. She will also take us through the best ways to manage tradeoffs between the different areas of Product: business, technology and user experience, based on real examples of large digital companies.

About Patricia de Loro:
Patricia has more than 16 years of experience in Digital Product and Strategy. Her passion is to create experiences that generate both profitability and an excellent user experience. Prior to joining the TheVentureCity as Chief Product Officer, she was responsible for digital transformation at Vodafone Spain where she led not only transformation from the business point of view but also culture, talent and organization. Patricia developed her career in Product in the most important technology hubs (London and San Francisco) at eBay where she led global projects.
* Notes *