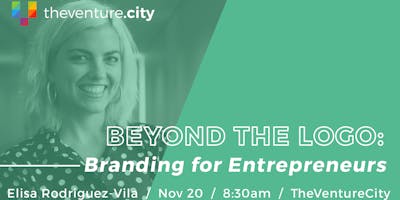 Beyond the Logo: Branding Basics for Entrepreneurs
This workshop is meant for entrepreneurs, non-designers and anyone who wants to build their own brand but does not know where to begin. When a company is bootstrapping design often falls by the wayside or is completely outsourced, but making it an integral part of your company's DNA has undeniable and wide-reaching benefits. We will break down the basics you should consider when designing your company's logo, how to build a brand from scratch, and how to maintain your brand as a living and ever-changing being. We will also talk about industry standards, how to find graphic designers and speak their language, pricing, and more practical information to get you on your way. 
At the end of the class, you will have an opportunity to sign up for a 15 minute one-on-one session with a graphic designer to discuss your brand or logo and get some feedback. 
** Please note we will not be making logos in this class. We will be learning about the process but it is not a long enough class to learn how to design a logo if you are not a graphic designer :)