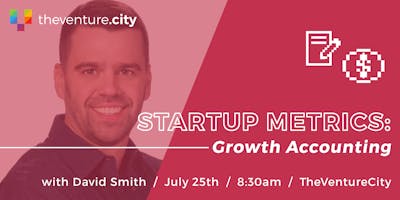 Startup Metrics: Growth Accounting
As the founder of a growing tech startup, quantifying things like user growth, retention, and engagement can seem like a daunting task. Fortunately, the metrics that help you run your company and that investors pay closest attention to can be derived from a relatively simple set of data. This workshop will help you understand how to extract and interpret metrics that really matter.
You will leave knowing:
1 – What raw data you need to track and access
2 – How to transform that data into useful summaries
3 – How to account for user and revenue growth, retention, and churn
4 – What a Quick Ratio is and how to interpret it
About David:
As a business-savvy data scientist, David enjoys wrangling, exploring, transforming, analyzing, and visualizing data. He has 20+ years of experience using data to solve business problems in diverse industries like financial services, telecommunications, apparel manufacturing, and pharmaceuticals. His data science project history spans multiple problem domains: product seasonality decomposition; customer segmentation via unsupervised clustering; collaborative filtering for product recommendations; and customer LTV probabilistic models. David's technical expertise includes experience working with and teaching Python, R, Excel, SQL Server, and Tableau. He has an MBA from Wharton and an engineering degree from Rice.
*Coffee & Doughnuts will be provided* ☕