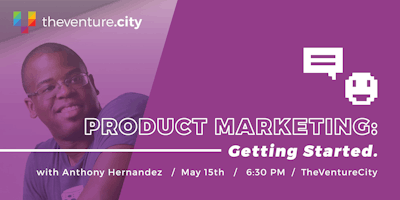 Product Marketing: Getting Started
Product Marketing is half art and science. Anthony's talk will help startups understand how to use it effectively, focus on clear positioning, audience, growth strategies and scaling. We will focus on three pillars of product marketing; product, marketing and sales growth to help find, grow and convert your ideal customer!
About Anthony:
Anthony Hernandez: Anthony is a proud Dominican-American New York native and a graduate of Baruch College with a degree in Marketing Psychology. He has worked at DigitasHealth and at an eco-startup called TerraCycle where he eventually opened up the Brazil TerraCycle office.

After Brazil, Anthony moved to Google working on advertising products as a Product Brand Manager launching ad products across US and Tokyo. He was also the Hispanic Googler Network chapter lead in the NYC focused on empowering Latino tech entrepreneurs, bringing Google's passion and knowledge to people in the Latino community!

Currently he is Vice president of Marketing, Strategic Partnerships at Genius Plaza, an education tech company personalizing learning for immigrant populations across North and South america. He works on a platform with content that looks and sounds like the populations it serves while giving the students the chance to use their own cultures to teach themselves math and language mastery.

Anthony frequently guest lectures on marketing, mentors at ALPFA and volunteers for education advocacy.

Personal passions are bridging the digital, political, and social economic gap for Latinos.