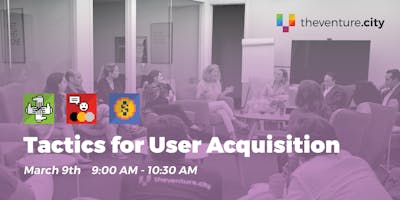 Tactics for User Acquisition
Our growth hacking expert, Katya, is back for another insightful workshop about aquiring users!
Getting the first users for your product - or growing the existing user base - is a challenge every entrepreneur faces. In this workshop we will be discussing the strategy and tactics of user acquisition: how to think about user acquisition as a part of user journey, what channels to test, how to test and understand the results of the test you are running and to scale them.
About Katya:
Ekaterina Skorobogatova has been focused on growth and analytics for all key products in Facebook portfolio of apps for the last 8 years starting with Facebook growth in Eastern Europe  and then supporting Instagram international expansion and WhatsApp growth at the time when the team launched VoIP and started working on the business messaging product. At TVC Ekaterina is focused on helping tech community that the team is working with thinking about growth playbook and how to achieve sustainable growth in usage, engagement and revenue